Diverse by design: literacy education within multicultural institutions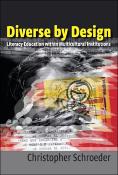 Abstract
Diversity, despite what we say, disturbs us. In the U.S., we debate linguistic rights, the need for an official language, and educational policies for language minority students. On the one hand, we believe in the rights of individuals, including (at least in the academy) the right to one's own language. On the other hand, we sponsor a single common language, monolingual and standard, for full participation and communication in both the academy and in U.S. society.
Author(s)
Schroeder, Christopher
Rights Access
Access is limited to the Adams State University, Colorado State University, Colorado State University Pueblo, Community College of Denver, Fort Lewis College, Metropolitan State University Denver, Regis University, University of Alaska Fairbanks, University of Colorado Boulder, University of Colorado Colorado Springs, University of Colorado Denver, University of Denver, University of Northern Colorado, University of Wyoming, Utah State University and Western State Colorado University communities only.
Date Issued
2011
Format
born digital; books
Collections