Reframing writing assessment to improve teaching and learning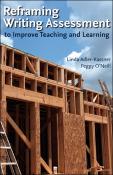 Abstract
Adler-Kassner and O'Neill show writing faculty and administrators how to frame discussions of writing assessment so that they accurately represent research-based practices, and promote assessments that are valid, reliable, and discipline-appropriate. Public discourse about writing instruction is currently driven by ideas of what instructors and programs "need to do," "should do," or "are not doing" and is based on poorly informed concepts of correctness and unfounded claims about a broad decline in educational quality.
Author(s)
Adler-Kassner, Linda; O'Neill, Peggy
Rights Access
Access is limited to the Adams State University, Colorado State University, Colorado State University Pueblo, Community College of Denver, Fort Lewis College, Metropolitan State University Denver, Regis University, University of Colorado Colorado Springs, University of Colorado Boulder, University of Colorado Denver, University of Northern Colorado, University of Wyoming, Utah State University and Western State Colorado University communities only.
Date
2010
Format
born digital; books
Collections