Things we carry, The: strategies for recognizing and negotiating emotional labor in writing program administration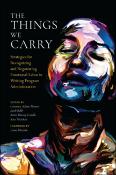 Abstract
Emotional labor is not adequately discussed by writing program administrators. The Things we carry makes this often-invisible labor visible, demonstrates a strategy to navigate it reflectively, and opens a path for research. This collection considers how writing program administrators work when their schools or regions experience crisis situations.--Provided by publisher.
Editor(s)
Wooten, Cortney Adams; Babb, Jacob; Costello, Kristi Murray; Navickas, Kate
Rights Access
Access is limited to the Adams State University, Colorado State University, Colorado State University Pueblo, Community College of Denver, Fort Lewis College, Metropolitan State University Denver, Regis University, University of Alaska Fairbanks, University of Colorado Boulder, University of Colorado Colorado Springs, University of Colorado Denver, University of Denver, University of Northern Colorado, University of Wyoming, Utah State University and Western Colorado University communities only.
Date Issued
2020
Format
born digital; books
Collections