Next steps: new directions for/in writing about writing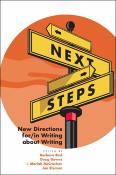 Abstract
First collection of teacher and student voices on a writing pedagogy that puts Rhetoric and Composition's expert knowledge at the center of the classroom. Forty plus contributors report on writing-about-writing pedagogies from the basic classroom to the graduate seminar from around the United States and the world--provided by publisher.
Editor(s)
Bird, Barbara; Downs, Doug; McCracken, I. Moriah; Rieman, Jan
Rights Access
Access is limited to the Adams State University, Colorado State University, Colorado State University Pueblo, Community College of Denver, Fort Lewis College, Metropolitan State University Denver, Regis University, University of Colorado Boulder, University of Colorado Colorado Springs, University of Colorado Denver, University of Northern Colorado, University of Wyoming, Utah State University and Western State Colorado University communities only.
Date
2019
Format
born digital
books
Collections