Re/orienting writing studies : queer methods, queer projects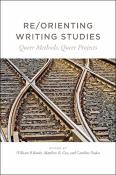 Abstract
The intersection between queer theory and rhetoric and research methods in writing studies. Focusing theoretical attention on common research practices to demonstrate how queer rhetorics of writing/composing, textual analysis, history, assessment, and embodiment/identity significantly alter both methods and methodologies in writing studies--provided by publisher.
Author(s)
Banks, William P.; Cox, Matthew B.; Dadas, Caroline
Rights Access
Access is limited to the Adams State University, Colorado State University, Colorado State University Pueblo, Community College of Denver, Fort Lewis College, Metropolitan State University Denver, Regis University, University of Colorado Boulder, University of Colorado Colorado Springs, University of Colorado Denver, University of Northern Colorado, Utah State University and Western State Colorado University communities only.
Date
2019
Collections