Sojourning in disciplinary cultures: a case study of teaching writing in engineering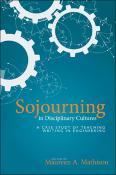 Abstract
A multi-year project to develop a mechanical engineering writing curriculum that satisfied the cultural needs of both compositionists and engineers. Colleagues employed intercultural communication theory and an approach to interdisciplinary collaboration to develop useful descriptions of the process of integrating writing with engineering--provided by publisher.
Editor(s)
Mathison, Maureen, A.
Rights Access
Access is limited to the Adams State University, Colorado State University, Colorado State University Pueblo, Community College of Denver, Fort Lewis College, Metropolitan State University Denver, Regis University, University of Colorado Boulder, University of Colorado Colorado Springs, University of Colorado Denver, University of Northern Colorado, University of Wyoming, Utah State University and Western State Colorado University communities only.
Date
2019
Format
born digital; books
Collections