Beyond postprocess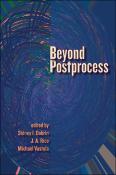 Abstract
Beyond Postprocess offers a vigorous, provocative discussion of postprocess theory in its contemporary profile. Fueled by something like a fundamental refusal to see writing as self-evident, reducible, and easily explicable, the contributors rethink postprocess, suggesting that there is no easily defined moment or method that could be called postprocess. Instead, each contribution to this collection provides a unique and important example of what work beyond postprocess could be--provided by publisher.
Editor(s)
Dobrin, Sidney I.; Rice, J. A.; Vastola, Michael
Rights Access
Access is limited to the Adams State University, Colorado State University, Colorado State University Pueblo, Community College of Denver, Fort Lewis College, Metropolitan State University Denver, Regis University, University of Colorado Colorado Springs, University of Colorado Boulder, University of Colorado Denver, University of Northern Colorado, University of Wyoming, Utah State University and Western State Colorado University communities only.
Date
2011
Format
born digital; books
Collections