Shorty's yarns: western stories and poems of Bruce Kiskaddon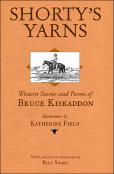 Abstract
The short stories of Bruce Kiskaddon, one of the most famous cowboy poets of the American 20th century. Compiled and introduced by Bill Siems in this new collection, to which he has added a selection of Kiskaddon's poems and the original drawings that accompanied them, by Katherine Field, a fine, underappreciated western artist.
Author(s)
Kiskaddon, Bruce, 1878-1950; Siems, Bill
Artist(s)
Field, Katherine
Rights Access
Access is limited to the Adams State University, Colorado State University, Colorado State University Pueblo, Community College of Denver, Fort Lewis College, Metropolitan State University Denver, Regis University, University of Colorado Colorado Springs, University of Colorado Boulder, University of Colorado Denver, University of Northern Colorado, University of Wyoming, Utah State University and Western State Colorado University communities only.
Date
2004
Format
born digital; books
Collections