Anónimo mexicano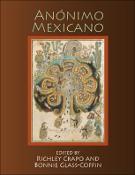 Abstract
Anonimo Mexicano is the first publication of the full Nahuatl text and English translation of a rare and important Native history of preconquest Mexico. Written circa 1600 by an anonymous Tlaxcaltecan author, it is an epic account of the settling of central Mexico by Nahua peoples from the northern frontier. They developed a sophisticated culture with powerful city states and an agricultural economy, fought great wars, established dynasties, and recorded their history and legends in painted books.
Editor(s)
Crapo, Richley H.; Glass-Coffin, Bonnie
Rights Access
Access is limited to the Adams State University, Colorado State University, Colorado State University Pueblo, Community College of Denver, Fort Lewis College, Metropolitan State University Denver, Regis University, University of Colorado Colorado Springs, University of Colorado Boulder, University of Colorado Denver, University of Northern Colorado, University of Wyoming, Utah State University and Western State Colorado University communities only.
Date
2005
Format
born digital
books
Collections