Ghosts and the Japanese: cultural experience in Japanese death legends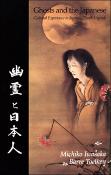 Abstract
The Japanese have ambivalent attitudes toward death, deeply rooted in pre-Buddhist traditions. In this scholarly but accessible work, authors Iwasaka and Toelken show that everyday beliefs and customs--particularly death traditions--offer special insight into the living culture of Japan.
Author(s)
Iwasaka, Michiko; Toelken, Barre
Rights Access
Access is limited to the Adams State University, Colorado State University, Colorado State University Pueblo, Community College of Denver, Fort Lewis College, Metropolitan State University Denver, Regis University, University of Colorado Colorado Springs, University of Colorado Boulder, University of Colorado Denver, University of Northern Colorado, University of Wyoming, Utah State University and Western State Colorado University communities only.
Date
1994
Format
born digital; books
Collections