Electronic scan weather radar: scan strategy and signal processing for volume targets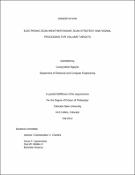 Abstract
Following the success of the WSR-88D network, considerable effort has been directed toward searching for options for the next generation of weather radar technology. With its superior capability for rapidly scanning the atmosphere, electronically scanned phased array radar (PAR) is a potential candidate. A network of such radars has been recommended for consideration by the National Academies Committee on Weather Radar Technology beyond NEXRAD. While conventional weather radar uses a rotating parabolic antenna to form and direct the beam, a phased array radar superimposes outputs from an array ...
(For more, see "View full record.")
Author(s)
Nguyen, Cuong Manh
Advisor(s)
Chandra, Chandrasekar V.
Date Issued
2013
Format
born digital; doctoral dissertations
Related items
Showing items related by title, author, creator and subject.
Author(s):

Bolen, Steven M.; Chandrasekar, V.

Format:

born digital; articles

Direct intercomparisons between space- and ground-based radar measurements can be a challenging task. Differences in viewing aspects between space and earth observations, propagation paths, frequencies, resolution volume ...

Author(s):

Fritz, Jason P.

Format:

born digital; doctoral dissertations

Global weather monitoring is a very useful tool to better understand the Earth's hydrological cycle and provide critical information for emergency and warning systems in severe cases. Developed countries have installed ...

Author(s):

Riley Dellaripa, Emily M.; Funk, Aaron; Schumacher, Courtney; Bai, Hedanqiu; Spangehl, Thomas

Format:

NetCDF; TAR; GZIP; TXT; SH

Comparisons of precipitation between general circulation models (GCMs) and observations are often confounded by a mismatch between model output and instrument measurements, including variable type and temporal and spatial ...