Process estimates of recollection and familiarity in working memory and episodic memory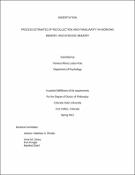 Abstract
Working memory is consistently shown to be related to episodic memory, but the underlying processes that contribute to this relationship are poorly understood. The following dissertation outlines a study which investigated the relationship between working memory and episodic memory, with particular regard to the contribution of familiarity and recollection processes to both constructs. Updating measures were also included to examine the potential mediating effects of updating on the relationship between working memory and episodic memory. Measurement models of both task performance and process ...
(For more, see "View full record.")
Author(s)
Loaiza-Kois, Vanessa Maria
Advisor(s)
Rhodes, Matthew G.
Date Submitted
2012
Related items
Showing items related by title, author, creator and subject.
Contributor:

Lory, Charles Alfred, 1872-1969


Date:

1948

Memorial book for Carrie Lory. Book contains details of her funeral, a list of people who sent flowers, and Lory's obituary.

Contributor:

Ott, Brian L.


Date:

1996

No effort to memorialize the Holocaust has been as far reaching in American culture as Steven Spielberg's 1994 film, Schindler's List. As a result of its nearly unanimous acclaim, Schindler's List is now being heralded as ...

Contributor:

Claxton, Alexander;


Date Submitted:

2015

Nairne, Thompson, and Pandeirada (2007) found an advantage in recall for items that were earlier rated for their survival utility in a hypothetical grasslands scenario. This pattern has repeatedly been shown, typically ...