After dark: the nocturnal urban landscape and lightscape of ancient cities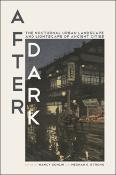 Abstract
After Dark explores the experience of nighttime within ancient urban settings. Contributors present evidence related to how ancient people manipulated and confronted darkness and night in urban landscapes, advancing our knowledge of the archaeology of cities, the archaeology of darkness and night, and lychnology (the study of ancient lighting devices).--Provided by publisher.
Editor(s)
Gonlin, Nancy; Strong, Meghan E.
Rights Access
Access is limited to the Adams State University, Colorado State University, Colorado State University Pueblo, Community College of Denver, Fort Lewis College, Metropolitan State University Denver, Regis University, University of Alaska Fairbanks, University of Colorado Boulder, University of Colorado Colorado Springs, University of Colorado Denver, University of Denver, University of Northern Colorado, University of Wyoming, Utah State University and Western State Colorado University communities only.
Date Issued
2022
Format
born digital; books
Collections