Speaking up, speaking out: lived experiences of non-tenure track faculty in writing studies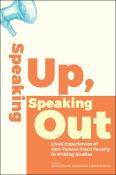 Abstract
Addresses the experiences of those in the non-tenure-track faculty (NTTF) trenches through storytelling and reflection. By connecting NTTF voices from various aspects of writing studies, offers fresh perspectives and meaningful contributions, imagining the possibilities for contingent faculty to be valued and honored in educational systems that often do the opposite--provided by publisher.
Editor(s)
Edwards, Jessica; McGuire, Meg; Sanchez, Rachel
Rights Access
Access is limited to the Adams State University, Colorado State University, Colorado State University Pueblo, Community College of Denver, Fort Lewis College, Metropolitan State University Denver, Regis University, University of Colorado Boulder, University of Colorado Colorado Springs, University of Colorado Denver, University of Northern Colorado, University of Wyoming, Utah State University and Western State Colorado University communities only.
Date Issued
2021
Format
born digital; books
Collections