Metabolizing capital: writing, information, and the biophysical environment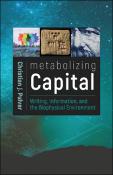 Abstract
Draws on writing studies, rhetoric, and composition, and blends metabolic ecology, physics, media studies, information theory, cognitive psychology, history, new materialism, and Marxism. This disparate disciplinary stew produces critical framework to guide the theorization of writing and rhetoric in the contexts of Web 3.0 and environmental crisis--provided by publisher.
Author(s)
Pulver, Christian J.
Rights Access
Access is limited to the Adams State University, Colorado State University, Colorado State University Pueblo, Community College of Denver, Fort Lewis College, Metropolitan State University Denver, Regis University, University of Colorado Boulder, University of Colorado Colorado Springs, University of Colorado Denver, University of Northern Colorado, University of Wyoming, Utah State University and Western State Colorado University communities only.
Date
2020
Format
born digital; books
Collections