Early holistic scoring of writing: a theory, a history, a reflection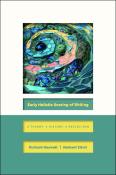 Abstract
During the educational accountability movement of the 1980s/1990s, holistic scoring became known as the fairest and most efficient ways to assess writing performance. Addressing the history of holistic assessment in the UK and US (1930s to mid- 1980s) they conceptualize reinterpreting the history while re-envisioning its future--provided by publisher.
Author(s)
Haswell, Richard; Elliot, Norbert
Rights Access
Access is limited to the Adams State University, Colorado State University, Colorado State University Pueblo, Community College of Denver, Fort Lewis College, Metropolitan State University Denver, Regis University, University of Colorado Boulder, University of Colorado Colorado Springs, University of Colorado Denver, University of Northern Colorado, University of Wyoming, Utah State University and Western State Colorado University communities only.
Date
2019
Format
born digital; books
Collections