Reinventing (with) theory in rhetoric and writing studies: essays in honor of Sharon Crowley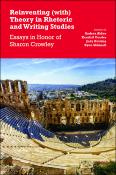 Abstract
Scholarship that takes up and extends the practices of inventive theorizing characterized by Crowley's work. Showing that theory is a continual rhetorical process that is indispensable for understanding situations and their potential significance--and a means of persuasion. Includes a foreword, afterword, and interview with Crowley--provided by publisher.
Author(s)
Crowley, Sharon
Editor(s)
Alden, Andrea; Gerdes, Kendall; Holiday, Judy; Skinnell, Ryan
Rights Access
Access is limited to the Adams State University, Colorado State University, Colorado State University Pueblo, Community College of Denver, Fort Lewis College, Metropolitan State University Denver, Regis University, University of Colorado Boulder, University of Colorado Colorado Springs, University of Colorado Denver, University of Northern Colorado, University of Wyoming, Utah State University and Western State Colorado University communities only.
Date
2019
Format
born digital; books
Collections