Weathering the storm: independent writing programs in the age of fiscal austerity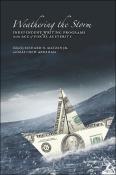 Abstract
Assesses the socio-economic and political conditions that surrounded the rise of independent writing programs since the 2008 financial collapse. Looking at institutional conditions and challenges programs have faced in the last ten years as they struggled to stake their turf in a rapidly changing educational environment--provided by publisher.
Editor(s)
Matzen, Richard N., Jr.; Abraham, Matthew
Rights Access
Access is limited to the Adams State University, Colorado State University, Colorado State University Pueblo, Community College of Denver, Fort Lewis College, Metropolitan State University Denver, Regis University, University of Colorado Boulder, University of Colorado Colorado Springs, University of Colorado Denver, University of Northern Colorado, University of Wyoming, Utah State University and Western State Colorado University communities only.
Date
2019
Format
born digital; books
Collections