Legend tripping: a contemporary legend casebook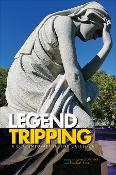 Abstract
Explores the practice of legend tripping, where individuals or groups travel to a site where an urban legend is thought to have taken place. Legend tripping is depicted throughout vernacular (contemporary and historical) culture and an expression of humanity's interest in the frontier between life and death--provided by publisher.
Editor(s)
McNeill, Lynne S.; Tucker, Elizabeth
Rights Access
Access is limited to the Adams State University, Colorado State University, Colorado State University Pueblo, Community College of Denver, Fort Lewis College, Metropolitan State University Denver, Regis University, University of Colorado Colorado Springs, University of Colorado Boulder, University of Colorado Denver, University of Northern Colorado, University of Wyoming, Utah State University and Western State Colorado University communities only.
Date
2018
Format
born digital
books
Collections