Kyle V Singer - drawing and new media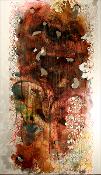 Abstract
I highlight the importance of flaws, trauma, and repression by evoking concepts of "the unconscious" through surrealist methodologies. Considering all that is suppressed/repressed within my psyche to form the culturally accepted version of myself, and by examining the distance between my identity, and the repressed self. Engaging the viewers through superabundance, tackling issues of consumerism with construction that grapples with the excess of daily life. I question aesthetic value, moral responsibility, and political agency in my efforts to sublimate the abject. The abject touches on the ...
(For more, see "View full record.")
The abject deals with a vast array of issues such as marginalized people, mortality, boundaries, and repulsion. It is usually used to describe the human reaction to horror and threatens to breakdown meaning by causing the loss of distinction between subject and object; between self and other. In an era of mass displacement due to natural and political disasters, this conceptually interest me and seem particularly relevant. The abject calls into question hierarchical values that allows for the dispersion and displacement of people: whether it be refugees, or low in-come families pushed out by ...
(For more, see "View full record.")
Author(s)
Kyle, Singer
Date Issued
2017
Format
born digital; Student works; works of art
Collections