Tender the maker: poems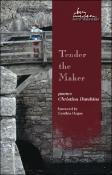 Abstract
Hutchin's poems startle us into awareness of the overlooked, the nearly-always invisible, and the marvelous, those aspects of life that come under the rubric of 'mystery,' in all sense of the word. Hutchins combines a pitch-perfect and precise lyricism with a postmodern sensibility of language's materiality--provided by publisher.
Author(s)
Hutchins, Christina, author; Utah State University Press, publisher
Rights Access
Access is limited to the Adams State University, Colorado State University, Colorado State University Pueblo, Community College of Denver, Fort Lewis College, Metropolitan State University Denver, Regis University, University of Alaska Fairbanks, University of Colorado Boulder, University of Colorado Colorado Springs, University of Colorado Denver, University of Denver, University of Northern Colorado, University of Wyoming, Utah State University and Western Colorado University communities only.
Date Issued
2015
Format
born digital; books
Collections