Naming what we know : threshold concepts of writing studies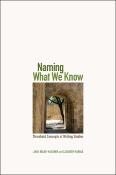 Abstract
Naming What We Know examines the core principles of knowledge in the discipline of writing studies using the lens of threshold concepts"--concepts that are critical for epistemological participation in a discipline. The first part of the book defines and describes thirty-seven threshold concepts of the discipline in entries written by some of the field's most active researchers and teachers, all of whom participated in a collaborative wiki discussion guided by the editors. These entries are clear and accessible, written for an audience of writing scholars, students, and colleagues in other ...
Author(s)
Adler-Kassner, Linda; Wardle, Elizabeth
Rights Access
Access is limited to the Adams State University, Colorado State University, Colorado State University Pueblo, Fort Lewis College, Metropolitan State University Denver, Regis University, University of Colorado Colorado Springs, University of Colorado Boulder, University of Colorado Denver, University of Northern Colorado, Utah State University and Western State Colorado University communities only.
Date
2015
Collections