Explorer's guide to Death Valley National Park, The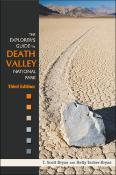 Abstract
Originally published in 1995, soon after Death Valley National Park became the fifty-third park in the US park system. The third edition is the only book that includes all aspects of the park. Much more than just a guidebook, it covers the park's cultural history, botany and zoology, hiking and biking opportunities--provided by publisher.
Author(s)
Bryan, T. Scott; Tucker-Bryan, Betty
Rights Access
Access is limited to the Adams State University, Colorado State University, Colorado State University Pueblo, Community College of Denver, Fort Lewis College, Metropolitan State University Denver, Regis University, University of Colorado Colorado Springs, University of Colorado Boulder, University of Colorado Denver, University of Northern Colorado, University of Wyoming, Utah State University and Western State Colorado University communities only.
Date
2014
Format
born digital; books
Collections