Listening to cougar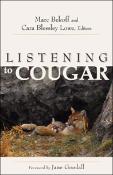 Abstract
This spellbinding tribute to "Puma concolor" honors the big cat's presence on the land and in our psyches. Essays describe chance meetings with cougars. Biologists describe aspects of cougar ecology. Conservationists relate the political history of America's greatest cat. Short stories and essays consider cougar's significance to people. A timely and thoughtful blend of natural history and evocation of a mysterious creature.
Author(s)
Bekoff, Marc; Lowe, Cara Blessley
Rights Access
Access is limited to the Adams State University, Colorado State University, Colorado State University Pueblo, Community College of Denver, Fort Lewis College, Metropolitan State University Denver, Regis University, University of Colorado Colorado Springs, University of Colorado Boulder, University of Colorado Denver, University of Northern Colorado, University of Wyoming, Utah State University and Western State Colorado University communities only.
Date
2007
Collections