Histories of infamy: Francisco López de Gómara and the ethics of Spanish imperialism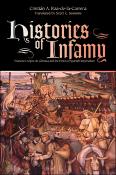 Abstract
In Histories of Infamy, Cristián Roa-de-la-Carrera explores Francisco López de Gómara's (1511-ca.1559) attempt to ethically reconcile Spain's civilizing mission with the conquistadors' abuse and exploitation of Native peoples. The most widely read account of the conquest in its time, Gómara's Historia general de las Indias y Conquista de México rationalized the conquistadors' crimes as unavoidable evils in the task of bringing "civilization" to the New World.
Author(s)
Roa-de-la-Carrera, Cristián A.; Sessions, Scott
Rights Access
Access is limited to the Adams State University, Colorado State University, Colorado State University Pueblo, Community College of Denver, Fort Lewis College, Metropolitan State University Denver, Regis University, University of Alaska Fairbanks, University of Colorado Boulder, University of Colorado Colorado Springs, University of Colorado Denver, University of Denver, University of Northern Colorado, University of Wyoming, Utah State University and Western State Colorado University communities only.
Date Issued
2005
Format
born digital; books
Collections