Applicability of the carbon-dating method of analysis to soil humus studies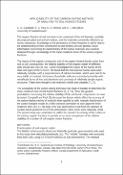 Abstract
The organic fraction of soil is known to be composed of the soil biomass, partially decomposed plant and animal residues, and the materials commonly referred to as humic substances. Knowledge of the persistence of these fractions in soil is vital to the understanding of their contribution to soil fertility and soil genesis. Much information concerning the biochemistry of the humus materials also could be obtained through a knowledge of the mean residence times of the various organic fractions.
This is a non-final version of an article published in final form in Soil Science 104, no. 3 (September 1987): 217-224. Publisher version: http://journals.lww.com/soilsci/Citation/1967/09000/APPLICABILITY_OF_THE_CARBON_DATING_METHOD_OF.10.aspx.
Author(s)
McCallum, K. J.; Rennie, D. A.; Paul, Eldor A.; Campbell, C. A.
Date Issued
1967-09
Format
born digital; articles