Mathematical modeling and analysis of nonlocal ecological invasions and savanna population dynamics, The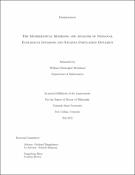 Abstract
The main focus of this dissertation is the development and analysis of two new mathematical models that individually address major open problems in ecology. The first challenge is to characterize and model the processes that result in a savanna ecosystem as a stable state between grassland and forest, and the second involves modeling the non-local spread of a biological invader over heterogeneous terrain while incorporating the influence of a mass transportation network on the system. Both models utilize and compare work done in other, often more opaque, modeling paradigms to better develop ...
(For more, see "View full record.")
Author(s)
Strickland, William Christopher
Advisor(s)
Dangelmayr, Gerhard; Shipman, Patrick
Date Issued
2013
Format
born digital; doctoral dissertations
Related items
Showing items related by title, author, creator and subject.
Author(s):

Rexroat-Frazier, Nanna M.

Students that qualify for special education services, with a learning disability in math, may receive these services through a variety of formats. Co-teaching is an instructional teaching model that provides an opportunity ...

A discussion of two-person zero-sum games in combinatorial game theory along with documentation of the software development process for creating an Android application that solves the game of Nim.

Author(s):

Hackworth, Sarah Jane

Research demonstrates that place-based education can help connect formal science standards to students' lived experiences, both in and out of school, thus increasing the relevancy of what students are learning (Dentzau, ...