Addressing the religious free-rider problem via religious consumption signaling and religious capital accumulation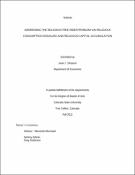 Abstract
The aim of this paper is to investigate and illustrate the religious free-rider problem within church congregations while investigating religious consumption signaling patterns and the ability, or lack thereof, to form religious capital. From an institutional perspective, this paper will address stigma-screening processes via three economic models in an effort to understand and evaluate the overall effectiveness of institutional responses towards free-riding members. In addition, this paper will explore incentives behind perverse consumption signaling as a method of communicating membership, as ...
(For more, see "View full record.")
Author(s)
Simpson, Jason J.
Advisor(s)
Bernasek, Alexandra
Date Issued
2012
Format
born digital; masters theses
Related items
Showing items related by title, author, creator and subject.
Author(s):

Reed, Harold W.

Author(s):

Causey, Ann S.

Format:

born digital; biographical sketches

Rolston is the father of environmental ethics. As such he occupies a singular place of importance in modern philosophy. He has devoted his distinguished career to plausibly and meaningfully interpreting the natural world ...

The book proposes the hypothesis that six generic ways of being religious may be found in any large-scale religious tradition such as Christianity or Buddhism or Islam or Hinduism: sacred rite, right action, devotion, ...