Organizational training and relationship building for increasing public participation in a public school district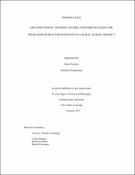 Abstract
From the early twentieth century to the present, citizen participation in U.S. public institutions--particularly schools--has continually decreased. The trend has been linked to the bureaucratization of public schools and their increasing reliance on expert knowledge for solutions to school- and education-related problems. The purpose of this study was to evaluate the impact of a parent training program designed to increase a school district's capacity for public participation. The program--known as Leadership St. Vrain--provided citizens knowledge about school district operations and management ...
(For more, see "View full record.")
Author(s)
Poynton, John
Advisor(s)
Venneberg, Donald
Date Issued
2012
Format
born digital; doctoral dissertations
Related items
Showing items related by title, author, creator and subject.
Format:

born digital; books

At the 2003 "Rock the Vote" debate, one of the questions posed by a student to the eight Democratic candidates for the presidential nomination was "have you ever used marijuana?" Amazingly, all but one of the candidates ...

Author(s):

Jenkins-Smith, Hank; Ripberger, Joseph

The focus of this book is on using quantitative research methods to test hypotheses and build theory in political science, public policy and public administration. It is designed for advanced undergraduate courses, or ...

The California Roundtable on Water and Food Supply (CRWFS) is a consensus-based forum for thought leaders to uncover obstacles, identify solutions, and take action to enhance water security for agriculture, the public and ...