Material culture, social networks, and the Chinese of Ouray, Colorado, 1880-1920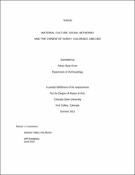 Abstract
This study examines a sample of artifacts recovered from the Vanoli Site (5OR30) encompassing a privy and trash midden located directly behind an historic Chinese laundry. Previous research in Overseas Chinese archaeology has focused on historically large Chinese communities and processes of acculturation, resulting in a homogenous perception of past Overseas Chinese experiences. The purpose of this project is to explore the small, historic Chinese community of Ouray, Colorado, and work to understand their past experiences in terms of social interaction rather than acculturation. Borrowing ...
(For more, see "View full record.")
Author(s)
Knee, Alexis Ryan, author; Van Buren, Mary, advisor; Orsi, Jared, committee member; Snodgrass, Jeffrey, committee member
Date Issued
2012
Format
born digital; masters theses
Collections
Related items
Showing items related by title, author, creator and subject.
Author(s):

Mao, LuMing, author; Utah State University Press, publisher

Format:

born digital; books

LuMing Mao offers an important discussion of the rhetoric of Chinese American speakers, which has wide implications for the teaching of writing in English and for our understanding of cross-cultural influences in discourse. ...

Author(s):

Chacon, Scott, author; Apress, publisher

Format:

born digital; textbooks

The entire Pro Git book, written by Scott Chacon and Ben Straub and published by Apress, is available here. All content is licensed under the Creative Commons Attribution Non Commercial Share Alike 3.0 license. Print ...

Author(s):

Kirkpatrick, Andy, author; Xu, Zhichang, author

The authors of Chinese Rhetoric and Writing offer a response to the argument that Chinese students' academic writing in English is influenced by "culturally nuanced rhetorical baggage that is uniquely Chinese and hard to ...