Commedia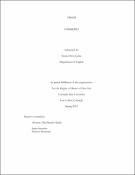 Abstract
"Commedia" is a poetry manuscript focused on etymology and cosmogony viewed through stock characters from traditional Commedia dell'arte improvisational theater. The text focuses on the characters ability to dream a new world into reality, pulling from the traditions of several ancient creation myths (Welsh, Norse, Greek, and Roman, among others) as well as the tactics of visual and literary Magical Realism. These poems are carefully focused on the dream-space as "real," in the sense of Slavoj Žižek's philosophy of the real, rather than dreams as an interpretive space (Freud, Lacan).
Author(s)
Jordan, Kirstin Britt
Advisor(s)
Beachy-Quick, Dan
Rights Access
Access is limited to the Colorado State University community only.
Date Issued
2012
Format
born digital; masters theses