Framing complexity in Formative Mesoamerica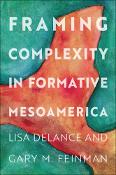 Abstract
An examination of variable social and economic processes, Framing Complexity in Formative Mesoamerica explores nascent social complexity during the Preclassic/Formative period in Mesoamerica and addresses broader social questions about egalitarian and transegalitarian Pre-hispanic Mesoamerican cultural groups. The chapters explore social aggregation, emergence of ethnic affiliations, and regional and macro-regional variability.--Provided by publisher.
Editor(s)
DeLance, Lisa; Feinman, Gary M.
Rights Access
Access is limited to the Adams State University, Colorado State University, Colorado State University Pueblo, Community College of Denver, Fort Lewis College, Metropolitan State University Denver, Regis University, University of Alaska Fairbanks, University of Colorado Boulder, University of Colorado Colorado Springs, University of Colorado Denver, University of Denver, University of Northern Colorado, University of Wyoming, Utah State University and Western State Colorado University communities only.
Date Issued
2022
Format
born digital; books
Collections