Diversity in open-air site structure across the Pleistocene/Holocene boundary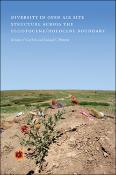 Abstract
Open-air sites are difficult for researchers to locate and difficult to interpret; containing superimposed events often showing only the most recent. Overcoming limitations of data and poor preservation, using prior research and new analytical tools, and diverging from a one-size-fits-all interpretation, offers fresh insight into formation and taphonomy of open-air sites.--Provided by publisher.
Editor(s)
Carlson, Kristen A.; Bement, Leland C.
Rights Access
Access is limited to the Adams State University, Colorado State University, Colorado State University Pueblo, Community College of Denver, Fort Lewis College, Metropolitan State University Denver, Regis University, University of Alaska Fairbanks, University of Colorado Boulder, University of Colorado Colorado Springs, University of Colorado Denver, University of Denver, University of Northern Colorado, University of Wyoming, Utah State University and Western State Colorado University communities only.
Date Issued
2022
Format
born digital; books
Collections