Alaska native games and how to play them: twenty-five ancient contests that survived the ages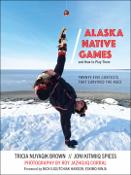 Abstract
In this book, you'll learn how to play centuries-old games with intriguing names, like the Eskimo Stick Pull, Ear Weight, Musk Ox Wrestling (no, you don't really wrestle the animal!), and Two-Foot High Kick. What do they require of you? Strength, balance, precision, and endurance. Mental focus. The will to challenge yourself and bring out the best in another. Exactly what's needed for survival in a harsh environment.--Provided by publisher.
Author(s)
Brown, Tricia Nuyaqik, author; Spiess, Joni Kitmiiq, author; Corral, Roy Jazhguq, author; University of Alaska Press, publisher
Rights Access
Access is limited to the Adams State University, Colorado State University, Colorado State University Pueblo, Community College of Denver, Fort Lewis College, Metropolitan State University Denver, Regis University, University of Alaska Fairbanks, University of Colorado Boulder, University of Colorado Colorado Springs, University of Colorado Denver, University of Denver, University of Northern Colorado, University of Wyoming, Utah State University and Western Colorado University communities only.
Date Issued
2020
Format
born digital; books
Collections