Alaska Constitution, The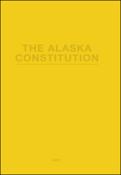 Abstract
The Alaska State Constitution, ratified by the people in 1956, became operative with the proclamation of statehood on January 3, 1959. The constitution was drafted by fifty-five delegates who convened at the University of Alaska to determine the authority vested in the state legislature, executive, judiciary, and other functions of government. This conveniently sized new edition will make the Alaska State Constitution accessible to all.--Provided by publisher.
Author(s)
Alaska, enacting jurisdiction
Rights Access
Access is limited to the Adams State University, Colorado State University, Colorado State University Pueblo, Community College of Denver, Fort Lewis College, Metropolitan State University Denver, Regis University, University of Alaska Fairbanks, University of Colorado Boulder, University of Colorado Colorado Springs, University of Colorado Denver, University of Denver, University of Northern Colorado, University of Wyoming, Utah State University and Western State Colorado University communities only.
Date Issued
2020
Format
born digital; books
Collections