Dawn of industrial agriculture in Iowa, The: anthropology, literature, and history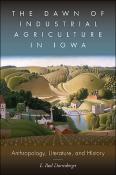 Abstract
Recounts the capitalist transformation of Iowa's family farms into today's agricultural industry through the lives and writings of Iowa novelist Paul Corey and poet Ruth Lechlitner. This anthropological biography analyzes their writing and correspondence to offer a perspective on an era (1925-1947) that saw financial collapse, rise of the Soviet Union, and rise and defeat of fascism.--Provided by publisher.
Author(s)
Durrenberger, E. Paul
Rights Access
Access is limited to the Adams State University, Colorado State University, Colorado State University Pueblo, Community College of Denver, Fort Lewis College, Metropolitan State University Denver, Regis University, University of Alaska Fairbanks, University of Colorado Boulder, University of Colorado Colorado Springs, University of Colorado Denver, University of Denver, University of Northern Colorado, University of Wyoming, Utah State University and Western Colorado University communities only.
Date Issued
2021
Format
born digital; books
Collections