Archaeology of Greater Nicoya, The: two decades of research in Nicaragua and Costa Rica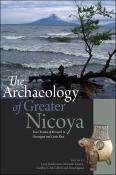 Abstract
Provides an overview of this archaeological subarea encompassing Pacific Nicaragua and northwestern Costa Rica. Colonized by diverse peoples of Mesoamerican origin centuries before the arrival of Europeans, Greater Nicoya remains controversial in the twenty-first century as scholars struggle to achieve consensus on questions of geography, chronology, and cultural identity.--Provided by publisher.
Editor(s)
Steinbrenner, Larry; Geurds, Alexander; McCafferty, Geoffrey G.; Salgado, Silvia
Rights Access
Access is limited to the Adams State University, Colorado State University, Colorado State University Pueblo, Community College of Denver, Fort Lewis College, Metropolitan State University Denver, Regis University, University of Alaska Fairbanks, University of Colorado Boulder, University of Colorado Colorado Springs, University of Colorado Denver, University of Denver, University of Northern Colorado, University of Wyoming, Utah State University and Western Colorado University communities only.
Date Issued
2021
Format
born digital; books
Collections