Greater Chaco landscape, The: ancestors, scholarship, and advocacy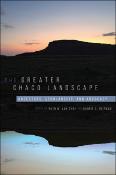 Abstract
Since mid-1970s, government agencies, scholars, tribes, and private industries have attempted to navigate conflicts involving energy development, Chacoan archaeological study, and preservation across the San Juan Basin. Examines both the imminent threat by energy extraction and ways of understanding Chaco Canyon--and Chaco-era great houses and associated communities.--Provided by publisher.
Editor(s)
Van Dyke, Ruth M.; Heitman, Carrie C.
Rights Access
Access is limited to the Adams State University, Colorado State University, Colorado State University Pueblo, Community College of Denver, Fort Lewis College, Metropolitan State University Denver, Regis University, University of Alaska Fairbanks, University of Colorado Boulder, University of Colorado Colorado Springs, University of Colorado Denver, University of Denver, University of Northern Colorado, University of Wyoming, Utah State University and Western State Colorado University communities only.
Date Issued
2021
Format
born digital; books
Collections