Reciprocating compressor lubrication – lubricant dilution with natural gas species and the impact on lubrication rates at various operating conditions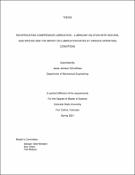 Abstract
Reciprocating compressors are ubiquitous in the natural gas industry as they provide much of the pressure necessary to move natural gas from the wellhead to the customer. Many of these compressors use lubricants to reduce friction and wear at the piston-cylinder interface. These lubricants have a difficult job for many reasons, but one phenomenon is often overlooked: gas solubility. Natural gas is soluble in the lubricant at high pressures and mixes with, or dilutes, the lubricant. Recent research has demonstrated that this dilution may reduce a lubricant's viscosity so far that the lubricant ...
(For more, see "View full record.")
Author(s)
Schulthess, Jesse Jamison
Advisor(s)
Windom, Bret
Date Issued
2021
Format
born digital; masters theses
Related items
Showing items related by title, author, creator and subject.
Author(s):

Luedeman, Matthew R.

Format:

born digital; masters theses

More than 6000 integral compressors, located along America's natural gas pipelines, pump natural gas across the United States. These compressors are powered by 2-stroke, large bore natural gas burning engines. Lowering ...

Author(s):

Sloan, Robert D.

Author(s):

Petersen, Max S.; Arthur Lakes Library; Russell L. and Lyn Wood Mining History Archive; United States. Bureau of Mines

The Sagamore Mine is an open pit iron mine in the Cuyuna Range, Minnesota. The Mine opened in 1919 and was producing into the 1950s. The Mine was operated by the Sagamore Iron Company for Pickands, Mather and Company. ...