Historicizing fear: ignorance, vilification, and othering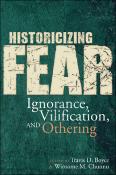 Abstract
A historical interrogation from a global perspective of the use of fear to vilify and persecute groups and individuals. Offering a look at racism, fearful framing, oppression, and marginalization, and how 'the Other' is defined and how fear is reinforced, spread, and used for political gain--provided by publisher.
Editor(s)
Boyce, Travis D.; Chunnu, Winsome M.
Rights Access
Access is limited to the Adams State University, Colorado State University, Colorado State University Pueblo, Community College of Denver, Fort Lewis College, Metropolitan State University Denver, Regis University, University of Colorado Boulder, University of Colorado Colorado Springs, University of Colorado Denver, University of Northern Colorado, University of Wyoming, Utah State University and Western State Colorado University communities only.
Date
2019
Format
born digital; books
Collections