Anthropomorphic imagery in the Mesoamerican highlands: gods, ancestors, and human beings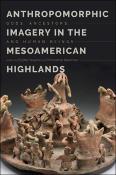 Abstract
Mexican, North American, and European researchers explore the meanings and functions of two-and three-dimensional human representations in pre-Columbian communities of Mexican highlands. They demonstrate the potential of anthropomorphic imagery to elucidate personhood, conceptions of the body, and the relationship to other entities, nature, and the cosmos--provided by publisher.
Editor(s)
Faugère, Brigitte; Beekman, Christopher S.
Rights Access
Access is limited to the Adams State University, Colorado State University, Colorado State University Pueblo, Community College of Denver, Fort Lewis College, Metropolitan State University Denver, Regis University, University of Colorado Boulder, University of Colorado Colorado Springs, University of Colorado Denver, University of Northern Colorado, University of Wyoming, Utah State University and Western State Colorado University communities only.
Date
2020
Format
born digital; books
Collections