Indigenous graphic communication systems: a theoretical approach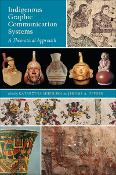 Abstract
Challenges Western academic views on what writing is and explores how these concepts can be improved by analyzing the sophisticated graphic communication systems found in Central Mesoamerica and Andean South America. Exploring and rejecting the Western notion that writing exists only to record the chain of speech--provided by publisher.
Editor(s)
Mikulska, Katarzyna; Offner, Jerome A.
Rights Access
Access is limited to the Adams State University, Colorado State University, Colorado State University Pueblo, Community College of Denver, Fort Lewis College, Metropolitan State University Denver, Regis University, University of Colorado Boulder, University of Colorado Colorado Springs, University of Colorado Denver, University of Northern Colorado, University of Wyoming, Utah State University and Western State Colorado University communities only.
Date
2019
Format
born digital; books
Collections