Seeking conflict in Mesoamerica: operational, cognitive, and experiential approaches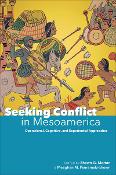 Abstract
Focuses on the conflicts of the Maya, providing a holistic history of hostilities, and comparing them to neighboring Mesoamerican villages. Explores varied stories of past conflicts through artifacts, texts, and images. Broadens the archaeological record for the "seeking" of conflict that has been largely untouched by previous scholars.--Provided by publisher.
Editor(s)
Morton, Shawn G.; Peuramaki-Brown, Meaghan M.
Rights Access
Access is limited to the Adams State University, Colorado State University, Colorado State University Pueblo, Community College of Denver, Fort Lewis College, Metropolitan State University Denver, Regis University, University of Alaska Fairbanks, University of Colorado Boulder, University of Colorado Colorado Springs, University of Colorado Denver, University of Denver, University of Northern Colorado, University of Wyoming, Utah State University and Western Colorado University communities only.
Date Issued
2019
Format
born digital; books
Collections