Objects of survivance: a material history of the American Indian school experience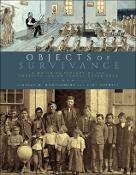 Abstract
Reframes the Bratley collection showing how tribal members have embraced it as their past and reclaimed it as contemporary identity. Bratley was an Indian school teacher charged with forcibly assimilating Native Americans. Although tasked with eradicating their culture, Bratley became entranced by their practices and collected artifacts/photographs--provided by publisher.
Author(s)
Montgomery, Lindsay, M.; Colwell, Chip
Rights Access
Access is limited to the Adams State University, Colorado State University, Colorado State University Pueblo, Community College of Denver, Fort Lewis College, Metropolitan State University Denver, Regis University, University of Colorado Boulder, University of Colorado Colorado Springs, University of Colorado Denver, University of Northern Colorado, University of Wyoming, Utah State University and Western State Colorado University communities only.
Date
2019
Format
born digital
books
Collections