Engaging reality: examining how location-aware mixed reality mobile apps and games influence sense of place for a more engaged citizenry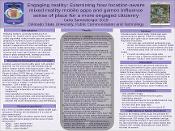 Abstract
Growing concerns regarding declining community and civic engagement as a result of increased access to new technologies calls for research seeking to understand ways that purposeful design could have a reverse impact. Location-aware mixed reality mobile apps may be one such technology that, with purposeful design, have the potential to engage users in their communities. Examining these technologies in the context of sense of place theory will provide insights to how these technologies may impact user engagement in their community. Sense of place theory posits that individuals' experiences in a ...
(For more, see "View full record.")
Author(s)
Bamesberger, Carla
Date Issued
2019
Format
born digital; Student works; posters
Collections
Related items
Showing items related by title, author, creator and subject.
Author(s):

Bamesberger, Carla

Format:

born digital; masters theses

Growing concerns regarding declining community and civic engagement as a result of increased access to new technologies calls for research on purposeful design that could have a reverse impact. Location aware mixed reality ...

Author(s):

Billings Gazette; Superior Clipping Service; Universal Press Clipping Bureau; UPCB; Telegraph-Bulletin

Format:

newspaper clippings

Author(s):

Gisetti, Alexandra

Format:

born digital; masters theses

Introduction: Having a stroke can be a very debilitating experience causing hemiparesis or hemiplegia. Often, when individuals are discharged home, therapeutic support decreases. This provides rehabilitation specialists ...