Engaging reality: examining how location-aware mixed reality mobile apps and games influence sense of place for a more engaged citizenry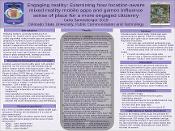 Abstract
Growing concerns regarding declining community and civic engagement as a result of increased access to new technologies calls for research seeking to understand ways that purposeful design could have a reverse impact. Location-aware mixed reality mobile apps may be one such technology that, with purposeful design, have the potential to engage users in their communities. Examining these technologies in the context of sense of place theory will provide insights to how these technologies may impact user engagement in their community. Sense of place theory posits that individuals' experiences in a ...
(For more, see "View full record.")
Author(s)
Bamesberger, Carla
Date
2019
Format
born digital
Student works
posters
Collections
Related items
Showing items related by title, author, creator and subject.
Author(s):

Swenson, Karli


Date:

2018-12-15

A comprehensive analysis of the lifelong experience women in STEM fields face, with a focus on childhood experiences, undergraduate education and unconscious biases of superiors. Quantitative study on the dynamics of the ...

Author(s):

Centner, Jacob


Date:

2019-05

The UW Shell Visualization Center is host to the C.A.V.E. (Cave Automatic Virtual Environment), a $2 million piece of virtual reality equipment that allows multiple people to see the same simulation. The floor and three ...

Author(s):

Pardue, Karen Terrell


Date:

2014

ALT represents "alternative text." It is the attribute of the HTML image (IMG) tag that provides a text equivalency or description for an image element in a webpage. Images include logos, decorative elements, photographs, ...