Japanese-Brazilian saudades: diasporic identities and cultural production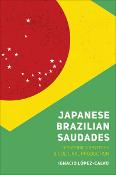 Abstract
Explores the self-definition of Nikkei discourse in Portuguese-language cultural [i.e.culture] by Brazilian authors of Japanese ancestry. Using books and films by twentieth-century Nikkei authors as case studies to redefine the ideas of Brazilianness and Japaneseness from both a national and a transnational perspective--Provided by publisher.
Author(s)
López-Calvo, Ignacio
Rights Access
Access is limited to the Adams State University, Colorado State University, Colorado State University Pueblo, Community College of Denver, Fort Lewis College, Metropolitan State University Denver, Regis University, University of Colorado Boulder, University of Colorado Colorado Springs, University of Colorado Denver, University of Northern Colorado, University of Wyoming, Utah State University and Western State Colorado University communities only.
Date
2019
Format
born digital
books
Collections