Yellowstone cougars: ecology before and after wolf restoration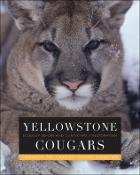 Abstract
Examines the effect of wolf restoration on cougar population in Yellowstone National Park. No other study has addressed theoretical and practical aspects of competition between large carnivores. A thorough examination of cougar ecology, how they interact and are influenced by wolves, how this knowledge informs management and conservation--provided by publisher.
Author(s)
Ruth, Toni K.; Boutte, Polly C.; Hornocker, Maurice G.
Rights Access
Access is limited to the Adams State University, Colorado State University, Colorado State University Pueblo, Community College of Denver, Fort Lewis College, Metropolitan State University Denver, Regis University, University of Colorado Boulder, University of Colorado Colorado Springs, University of Colorado Denver, University of Northern Colorado, University of Wyoming, Utah State University and Western State Colorado University communities only.
Date
2019
Format
born digital
books
Collections