Lithic technologies in sedentary societies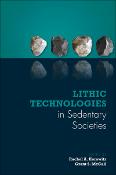 Abstract
Examining lithic technology in sedentary societies around the world and showcasing information that in-depth, cutting-edge, lithic analytical techniques provides. Highlighting important contributions to the field of lithics and how they can improve the study of sedentary Mesoamerican societies, as well as other ancient societies around the world--provided by publisher.
Editor(s)
Horowitz, Rachel A.; McCall, Grant S.
Rights Access
Access is limited to the Adams State University, Colorado State University, Colorado State University Pueblo, Community College of Denver, Fort Lewis College, Metropolitan State University Denver, Regis University, University of Colorado Boulder, University of Colorado Colorado Springs, University of Colorado Denver, University of Northern Colorado, University of Wyoming, Utah State University and Western State Colorado University communities only.
Date
2019
Format
born digital
books
Collections