Late prehistoric hunter-gatherers and farmers of the Jornada Mogollon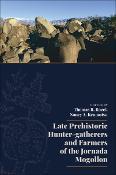 Abstract
The Jornada branch of the Mogollon culture in southeastern part of the U.S. and northern edge of Mexico played significant economic, political, and social roles. Topics reach beyond the American Southwest, such as mobility, forager adaptations, transition to farming, responses to environment, and patterns of social interaction--provided by publisher.
Author(s)
Rocek, Thomas R.; Kenmotsu, Nancy A.
Rights Access
Access is limited to the Adams State University, Colorado State University, Colorado State University Pueblo, Community College of Denver, Fort Lewis College, Metropolitan State University Denver, Regis University, University of Colorado Boulder, University of Colorado Colorado Springs, University of Colorado Denver, University of Northern Colorado, Utah State University and Western State Colorado University communities only.
Date
2018
Collections