Relational identities and other-than-human agency in archaeology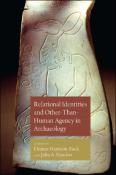 Abstract
Explores benefits and consequences of archaeological theorizing on and interpretation of social agency of non-humans as relational beings capable of producing change in the world. Cross-examines traditional understanding of agency and personhood, presenting globally diverse case studies that cover a range of cultural, geographical, and historical contexts.--Provided by publisher.
Editor(s)
Harrison-Buck, Eleanor; Hendon, Julia A.
Rights Access
Access is limited to the Adams State University, Colorado State University, Colorado State University Pueblo, Community College of Denver, Fort Lewis College, Metropolitan State University Denver, Regis University, University of Alaska Fairbanks, University of Colorado Boulder, University of Colorado Colorado Springs, University of Colorado Denver, University of Denver, University of Northern Colorado, University of Wyoming, Utah State University and Western State Colorado University communities only.
Date Issued
2018
Format
born digital; books
Collections